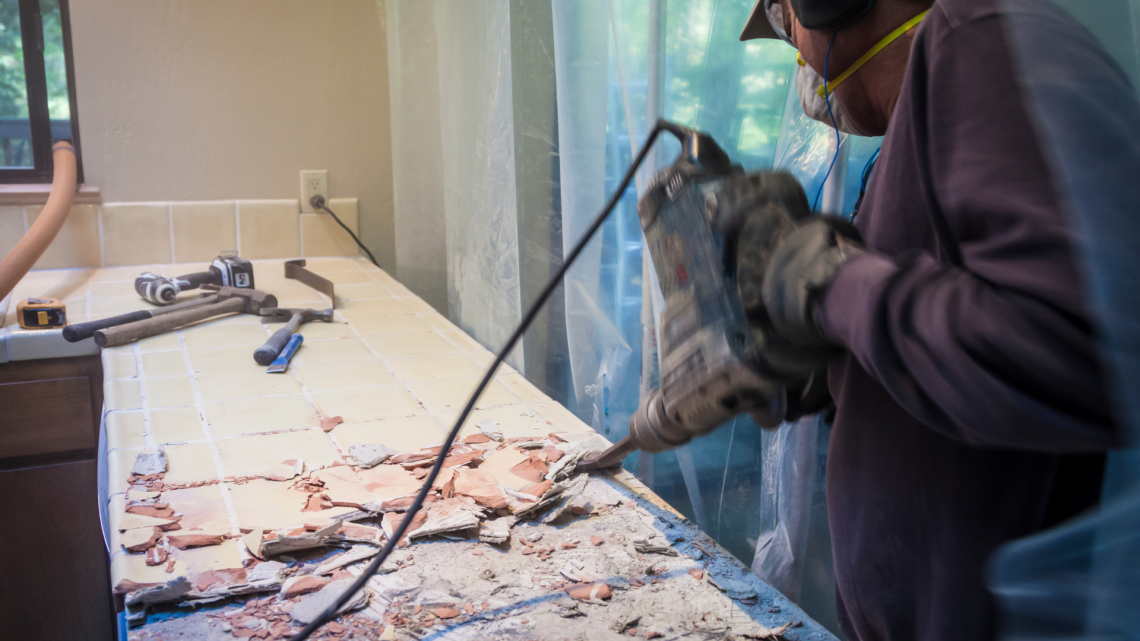 10 Bathroom Remodel Tips and Advice
Your bathroom is arguably one of the most used rooms in your home, but that doesn't mean it has to be an eyesore. Some simple remodelling of your bathroom can make it more enjoyable and functional, and that starts with the basic design.
Let's take a look at 10 bathroom renovation tips and advice on how to make your space your own.
Choose the right tile
Ceramic and porcelain tile is best for bathrooms since they're durable and easy to clean. Ceramic tiles also come in a range of colours, from neutral to bold, so it's easy to match them with other tiles and decor.
Select the right colours
Your bathroom is somewhere you spend a lot of time, so it's important to make it feel as relaxing as possible. Consider what it can do for you. It's your own personal spa. Choose colours that appeal to you before you dive in.
Decorate with accent tiles
Accent tiles, such as glass tiles, add visual interest and can coordinate with the rest of your bathroom decor, so you may want to use them when you remodel. While you can use any tile for these accent areas, you can enhance the look by sticking with one tile type, such as glass.
Use matching accessories
By picking items in the same colour scheme, you can use matching accessories to create a cohesive look throughout the bathroom. For some reference on the styles, you can check out a website similar to Wetroom Design, for instance.
Install a frameless shower
Installing frameless shower doors is one of the best ways to make your bathroom even more beautiful! When you decide to install them, you'll want to hire an installer who's experienced and well-versed in these types of installations.
Install a rainfall shower head
Not every bathroom needs to be a full bathroom. Showers are the fastest way to get clean, and rain shower heads are the ultimate in bathing luxury. Enjoy the sense of total immersion in your shower with the installation of a rain shower head.
Use a recirculating system
Luckily, there's a way to fix this problem and reap the rewards of a perfectly cleaned bathroom without dirty water. A recirculating system keeps dirty water out of your shower and bath and is powered by the water pressure in your home.
Add a bathtub
Adding a bathtub to your bathroom renovations is a popular choice for many homeowners. It is the perfect place to soak and relax and is renowned for its therapeutic qualities. If you find the right tub, it could further enhance your experience. In a spacious bathroom, you might consider installing a tub large enough to match its dimensions. In this regard, a company such as Mile High Hot Tubs can provide you with the required hot tub (if interested, check out their offer "hot tubs for sale denver"). You might include the idea in your blueprint even if you're a minimalist!
Use a steam system
Today's steam systems are the perfect solution for homeowners who want to combine steam technology into their homes without taking up a lot of space.
Add a handheld shower
You also have to update everything around it, including your shower. Whether you want to add a handheld shower or replace your shower caddy, there are tons of small bathroom shower remodelling ideas to give you some inspiration.
The addition of new fixtures, structural changes, newer design layouts and flooring additions implemented could make a difference to the appearance as well as the value of your home. But the key is to get the job done right. Any person can design a home, but that does not mean that it will look good or as expected. So, a much better and safer option would be to use the services of a General Contractor Houston (if that's where you live) to redesign your place best.
Bathroom remodels are all the rage. Homeowners know spending a little money on bathroom renovations can have a big impact on the overall value of a home. But many of them worry about how they will actually afford these big projects and may be tempted to settle for small, inexpensive projects. However, there are some simple ways to remodel your bath that will add a lot of value without breaking the bank think of the tips below that can inspire you to renovate your bathroom.
If you're like most people, then your bathroom is one of the most important rooms in your home. After all, it's where you and your family get cleaned up, start your day, and take care of business. If your bathroom could use an update, it might be time to consider a bathroom remodelling project. For example, you could consider contacting bathroom cabinets denver agencies or other similar companies in your locale to help you create extra storage space in your washroom.
The remodelling budget should be one of your top priorities. The more information you know, the easier it will be for you to create a whole remodelling plan. So, keep this in mind and renovate your bathroom accordingly.
Making up your mind is the key to remodelling your bathroom. If your bathroom is outdated and outdated, remodel your bathroom in a style that matches your lifestyle.